Hey guys! Sorry for the long hiatus from this blog. I must admit, aside from being super busy with life and all the changes coming my way I've been also wracking my brain for something to blog about.

As you guys know, I try as much as possible to keep this blog fun, light and in some ways, inspirational (I sound so pretentious ughh) without having to sacrifice meaning and content. I like being able to share with you guys the lessons I've learned from life and the lessons I have learned from God. We have to remember that with every "bad" or difficult thing that happens in one's life, there is always a bigger reason as to why God allowed it.

With that being said, I was so happy when I randomly opened my Tumblr account to check my drafts (btw, for all the TOP lovers out there, I am posting a chapter tonight! I just realized that my TOP chapters are piling up since I haven't been posting them! #lazy) I stumbled upon this draft of an entry that really struck me. I love how sometimes I look back on my entries and think "Wow, did I really write that? Did I make THAT much sense?" Haha! After reading the entry I got inspired to finish it and post it on this blog because I feel it is something that a lot of us can relate to. I hope you guys will enjoy this entry especially because it is the first entry since my return. So here it goes...


Broken.
It's been forever since I last turned on my laptop and began writing on this blog. I guess it's cause I've just had so much to do and had very little time to really be with my thoughts and put them all down here. I find myself now, however, on my bed, typing. And I gotta say, it's a really good feeling.
I've missed writing- I've missed blogging, actually. I've always seen my blog as a little platform for me to share my thoughts and feelings, judgements aside. Some people may not like what I have to say and others might just read what they needed to "hear" from my entries. Whoever you may be, you are always free to leave this blog or stop reading. It is your choice.
So why am I writing now? Why did I choose such a title? Well, believe it or not, I had a dream last night about this entry. I wouldn't really call it a "dream" but there really is no other word for it. You know how some times you lay awake at night, drifting in and out of sleep with all these thoughts in your head? Some good, some bad, and some just so random? Yeah, that's what happened to me last night. I took it as a sign to start writing and well, here I am now, blabbing on and on about the "origin" of this entry when I really should just get to the point, yeah? Haha...
Broken Hearts. A Broken You.
I've always come to find that when it comes to things that are broken, the idea of fixing it always seemed so hard, so impossible. I can't even count the number of times I've broken a vase, a bowl, a plate and a glass when I was a kid- I'd stare at the shattered pieces and think 1) How much trouble I was going to be in and 2) With all that shattered glass, all those little broken pieces scattered everywhere, I would never, ever in my wildest dreams, be able to fix it.
I guess that's what stuck to me after all these years of broken furniture and plates... That fixing something that broke would be the most impossibly difficult task for anyone to do. So how does this relate to the line above on relationships and promises and hearts? Well, in my life at least, that's how I first saw all my hardships and heartbreaks- feelings and states that I would never ever be able to get out of alive or be able to fix. But boy, was I wrong.
Allow me to share with you guys how I was able to get up and fix what I once thought was forever broken. I hope you all can benefit in some way from what I'm going to share.
I can still remember the first time I got my heart broken. It felt as if my heart was being held by a hand that kept on squeezing and squeezing. My heart felt as if it was going to break, literally. I lay in bed and thought I was going to die of a heart attack of sorts because the pain was just that unbearable.
My whole body hurt- from my head down to my toes, I couldn't get up from my bed. I cried and cried until I had no more tears left to shed. I fell in and out of sleep because of how tired I was crying. I barely ate, I barely moved. I willed myself to stay in bed until maybe my mattress would swallow me whole. I prayed and prayed to just become numb. I couldn't take the pain.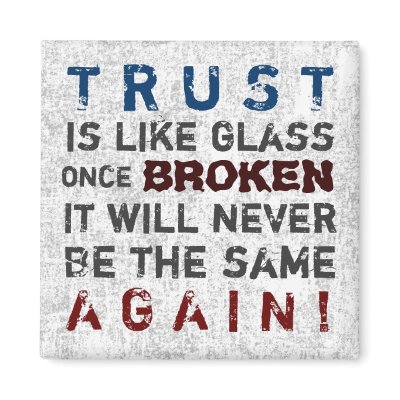 Trust, for me, is one of the most important things in any relationship. Whether it be friends, family or lovers, trust is something you have to earn and give to someone you truly love and care about.
I trust very easily. Because of this, more often than not, I get hurt easily too. I've made poor choices and trusted the wrong people. When you enter a relationship, you trust. You learn to trust and you learn to be trusted. I give it my all in the relationships I'm a part of. Which is why when the relationship goes downhill, it's usually because of the lack of, or the abuse of, the trust.
No matter how much you love someone, with no trust, there can be no relationship. I loved someone once, so much, that I trusted them with a lot of things in my life. When the person broke that trust, I found it really hard to look at them the same way.
This is something I learned the hard way and something that I want to share. If a person really and truly loves you, they will give you no reason to doubt, to question and to think about their actions and words. Trust is something that needs to be earned and if a person loves you as much as they say they do, then they will make sure that the first you have for them, aside from love, is trust. You cannot love someone if you don't trust them. Relationships cannot last if one keeps questioning and doubting.
That's why it is important to never, ever, ever, break a person's trust.
Looking back at past relationships, aside from trust being broken, I've come to find that my exes weren't entirely at fault. I too, had my share of faults and wrongs in the relationship.
Insecurities are something we all have and face each day. I cannot think of anyone who has no insecurities. If they claim they don't, well, good for them. But I think they're just fooling themselves.
I am one of the most insecure people you will ever meet. I wake up some days feeling like crap. Wishing I looked like someone else. Wishing I had a better body, better skin, better hair, a better height and the list goes on. I realized that my relationships broke because of my insecurities as well.
You have to believe you're good enough. As hard as it is, you have to know your worth. It takes time and a lot of patience, but little by little, if you want to believe it, you will realize your worth. Insecurities aside, you have to learn to love yourself for who you are. You cannot expect someone to love you when you cannot even love yourself. I really believe that there is someone out there for everyone. And I truly believe that, that one person will love you, "flaws and all." Do not let your own insecurities ruin your relationship.
Memories. These are tricky little bast*rds aren't they?
Memories can make you feel two ways: Really really good, or completely and utterly miserable.
I realized that I had to learn how to filter and file my memories. When you get your heart broken, you can't help but remember all the good times. The times you were happy, the times that you never thought in a million years, would turn out this way- you, on your bed, wishing yourself dead.
It's so much easier to remember the good times when you're feeling miserable. I think it's cause in some sick, twisted way, we enjoy the pain we feel. I'm not saying we're sick or whatever, but I think that it just happens. The good times will always come up when you're feeling so low.
What we have to remember about the past and these memories is that at the end of the day, they will always and forever be, in the past. We cannot do anything to bring back a moment, an instance, retract a statement or prevent something that has already happened from happening. Life doesn't work that way. But us making ourselves feel worse? We don't have to work that way.
So stop killing yourself with old memories and start making new ones. Easier said than done, yes, but do you plan on spending the rest of your life living in the past, hidden behind all these memories? Will remembering those times ever bring the person back? Fix a relationship that has long been broken? No. What ends up happening is you end up ripping your heart apart, piece by piece, over and over again.
A Better YOU
Here is where the toughest part of fixing your broken heart comes in... Willing yourself to become better. I truly believe that in order to become better and move on, we have to constantly make a conscious effort to do so. We cannot just say "I'll be okay from now on." and then spend the rest of the day thinking back at the shoulda, woulda, couldas. No, that's not how it works. Which is why I am also a strong believer in PRAYER.
I don't think any of us (including myself) fully realize the power of prayer. The strength that prayer and faith give us. You see, God is and will always be right by our side. Helping us up when we're down an making us better and stronger versions of ourselves.
It's so easy for us to be angry with God when we are broken. "How could He do this to me?" or "How could He let this happen to me??" are just some of the things we find ourselves asking or shouting from our broken hearts. And you know what, I totally agree with you! I would also shout those things and cry myself to sleep at night thinking of all of those things. But you know what I realized? God let those things happen because they NEEDED to happen. Ouch right?
Sometimes we need to fall down in order to realize where we stand in life. We need to get hurt in order to know how not to hurt. God let's us experience that. So instead of being angry, be grateful. Be grateful for getting your heart broken. Why? So you know never to break anyone's heart. In all my past relationships and everything I experienced because of them, I realized and learned what I want fro a relationship and how I should be in a relationship. Granted I'm not the best or most perfect girlfriend in the world, but I would like to think that I am so much better from how I used to be. I now know how to love better and with my whole heart but at the same time still leaving something for myself- being able to be strong in a relationship while still listening and making room for compromises.
Lastly, just always remember this phrase. This is something that super stuck to me ever since I read it a few years a go. You are strong. No matter how broken and weak you feel, you are STRONG. Sometimes even stronger than you think. So never forget that. Never forget what you deserve. :)
-----
So there you have it folks! My first entry after a million years. I hope it didn't disappoint. I promise to make a more conscious effort to update this blog no matter how busy I get. I hope you guys come back for the other entries. Thank you for reading and visiting!!! :)