The Low-down on The J-Law
11:17:00 AM
Google Images
There's no denying it, Jennifer Lawrence has popped up on our radars faster than you can say
Silver Linings Playbook
(okay, that wasn't THAT fast to begin with anyway). I honestly never really understood her appeal from her past movies (okay okay, I never really knew WHO she was up until the Hunger Games one). And even then I never really knew
why
people liked her. That is until I stumbled upon a few of her interviews and guest appearances online. After watching Youtube clip after Youtube clip like a
complete stalker
completely normal person, I have to say, I LOVE HER!!! I started researching on magazine articles and written interviews that she did and I was hooked! I was an official J-Law Lover! So it was no surprise that when I found out she was starring in a much awaited movie called Silver Linings Playbook (also starring one of my man crushes Bradley Cooper- yum yum yummyness!) that I just HAD to watch it.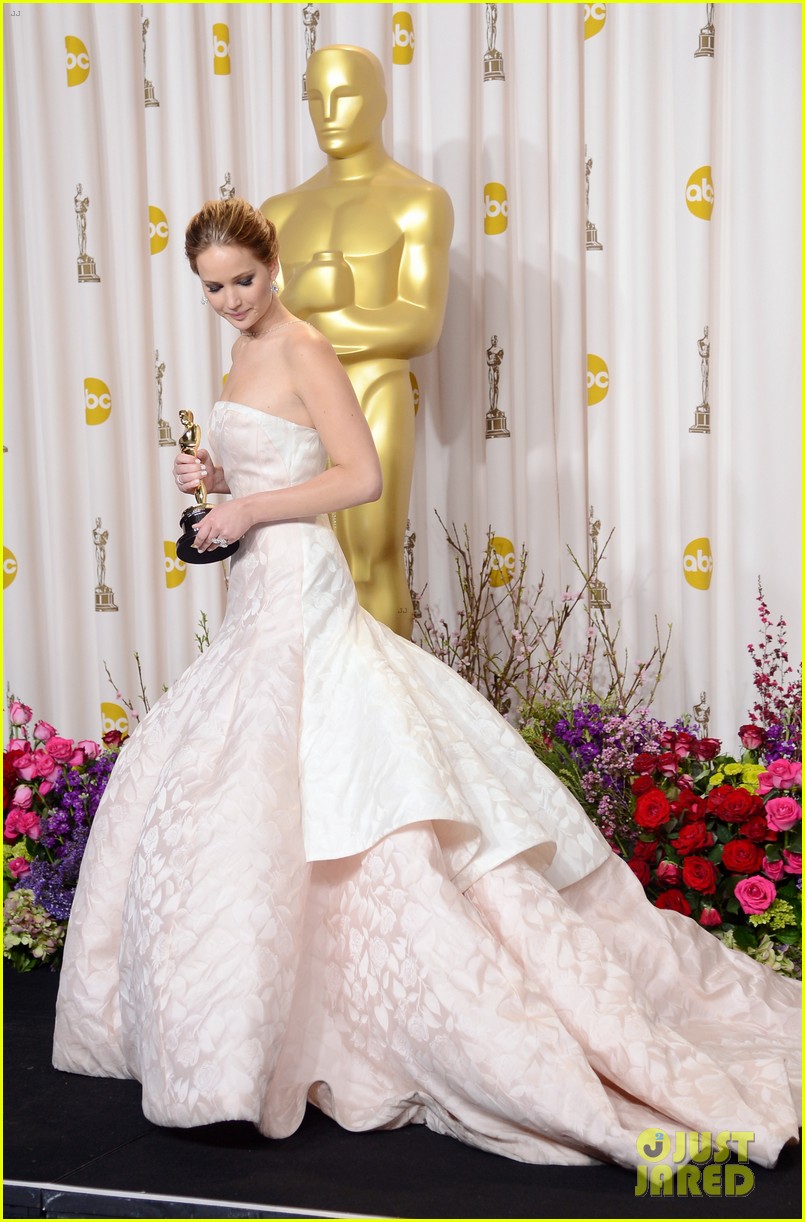 She looks amazing!!!!
Aside from being
completely
and
effortlessly
good-looking (I sound like Zoolander HAHA), I think we can learn a lot from this young, fresh and
HONEST
actress. I've come to appreciate her not just for her amazing acting skills but also for her bluntness and honesty towards light AND heavy subjects. So here are some things I love and have learned from Jennifer Lawrence. Hopefully you can begin to understand my weirdness and crush towards her a little more Hihi :)
The J-Law Laws of Awesomeness
The things I've learned from actress Jennifer Lawrence
Love your body
You and me both, sister!
I remember reading about J Law in an
interview
where she was quoted saying that in Hollywood, she is considered obese.
Obese
. O-
FREAKIN
-BESE. Have you seen this woman's waist line?? Have you seen her body?
HOYMAHGAHD
what I would give to have her body! But then, if you really think about it, what she said was true.
Google Images
I don't know how it started but after the age of the pin-up girls and gorgeous curves, came the age of the
stick thins
. The size zeros and wafer like bodies. We see it in pictures, in magazines, on billboards and on TV. I will admit, I am probably the first person to look at a picture of a model and think "
Okay, I'm not eating dinner tonight.
" I'm guilty.
Guilty guilty guilty
. But one thing that I learned from life and from J Law is that, at the end of the day, it's not about being thin, it's about being
healthy
.
I will never be a Victoria's Secret model no matter how many hours I spend at the gym or how many different "wonder diets" I try out. Why?
Cause my body isn't built that way
. I'm not 5"10 with a 21 inch waistline and killer legs and great boobsies (Hihi, boobsies).
I'm me
. 5"5 with hips that don't lie and a chest of a 12 year old...boy. What's more important than trying to look like someone I'm not is to enjoy life and enjoy my body. Depriving one's self of food and "guilty pleasures" in the form of snacks
is not something I want to do or encourage people to do
. I mean think about it, you can really
eat anything you want
, just in
moderation
. My mom always tells me to enjoy my metabolism now because as we get older it naturally slows down. This, however, doesn't mean we should stuff our faces till we pass out (though I am guilty of this at times... I LOVE BUFFETS!) but
we shouldn't deprive ourselves either with crazy diets and long gym hours
.
Check out her toned bum! Yowzah!
Eat well and stay active
. Be fit. Jog for 30 mins or do yoga. Take the stairs to work or in school. It's little things like this that can help keep us on the right track and keep us
fit and healthy
. What I love about J Law is she even said (
although not in these exact words
) is the reason why she loves her Katniss character is because she's a strong figure that other girls can relate to and aspire to be,
NOT
because of her body, but because of her devotion to her family and courage. She didn't want girls to say "
I want to be like Katniss so I won't eat dinner for 3 weeks.
" She wanted girls to say "
I want to be like Katniss. Strong willed and smart.
" I'm definitely
paraphrasing
but that was definitely the message she wanted people to know.
Be honest. Always
You can't help but LAUGH at her interviews. She's so candid!
She's just so
refreshing
and
candid
! This is one of the reasons why I'm so
hooked
on this actress- I laugh at all her little jokes and hirits! She's so
straight forward
but at the same time
endearing
. Some people might not like this kind of a quality in a person but I really do appreciate it.
I'd rather someone say it to my face than behind my back
. What we can learn from J Law is that it
PAYS
to be honest. Why spend all this time lying about something when you can take the shorter route and just be
honest
?
If you have nothing to hide than you have nothing to worry about
. If people don't like what you have to say, well then, sorry for them.
What matters is you stay true to yourself and you stay as honest as possible.
FINALLY! An actress who's actually HUMAN!
Instead of spending all your time trying to be somebody else, why not just try and be yourself?
The best version of yourself
. It makes so much sense if you really think about it. This is something that I promise myself that I will try to do every day.
Just be honest with myself
. Know my
shortcomings
and how I can
improve
them. Know my
strengths
and figure out how I can
use them for the better
. These are little things that we can learn to do every day that will end up making a
BIG
difference. I now get why in grade school our teachers used to always say "
Honesty is the best policy
." It really is!
Don't take yourself or life too seriously
I really do hope they're dating in real life. I really like him for her!!! Feeling close much? HAHA
I think one of the issues we face daily is that at one point or another
we forget to laugh and just be silly
. We forget that life, though filled with tons of problems, is also filled with so many things to be grateful for, so many things to smile and laugh about.
A reference from one of my favorite movies!!! I SUPER DUPER LOVE HER NOW! :P
My family and friends know that I am
BIG
on worrying and getting all stressed out about everything. I tend to
overthink things
and I end up
feeling miserable about something that sometimes I have no control over
. What I am trying to learn is to just laugh things off and learn not to take things too seriously. Don't get me wrong,
I'm not saying that we shouldn't take our problems seriously and we should just laugh all throughout life without caring about anything
. No. What I'm trying to say is
we shouldn't forget to breathe and just laugh
.
When things aren't in our control, then we really can't do anything about it. If it starts storming and we're stuck in major traffic, is it our fault? Is there anything we can do while we're sitting in our cars stuck in traffic?
No
. So instead of stressing out and getting all annoyed and miserable,
laugh it off
! There's nothing else we can do anyway, right? Another thing with laughing and not taking things too seriously is that it
prevents things from getting to your head
. It helps prevent you from becoming
mayabang
or
full of yourself
.
What a cutie!
Look at J Law. She is now officially a
multi-award winning
actress with tons of praise and respect from her peers and top Hollywood movie people. Do you think she's full of herself? Well, maybe, but it sure doesn't seem like it. We may not be close (feeling close lang ako HAHA) but from what I've
stalked
read about her, she seems pretty
down to Earth
to me. And I guess that's part of her appeal. She knows not to take herself and life too seriously.
It's not about how many times you FALL, it's about how many times you choose to GET BACK UP
Credits to PerezHilton.com
Now who could forget her
infamous fall
right before she went up to receive her Oscar? I personally wasn't able to watch the Oscars live due to work (and because my Oscars Awards Night invite seemed to have gotten
LOST
in the mail- darn you Philippine Postal Service! Nyahaha
#feelingera
) I remember reading about it on Twitter (
during my work break, I promise... Hehe
) and thinking, "Oh no! Poor girl!" but what I read after made me super smile. J Law got up, laughed it off, and continued to receive her Oscar and give her speech.
So gorgeous even after her tumble! Idol!
I loved how everyone gave her a standing ovation and she said that they were only standing because they felt bad for her. See! She's so honest and funny, I love it! If that were me, I would curled up into a ball and refused to stand back up due to shame. But what did she do? She shrugged it off and walked up on stage as if nothing happened. Now
THAT
's someone to look up to.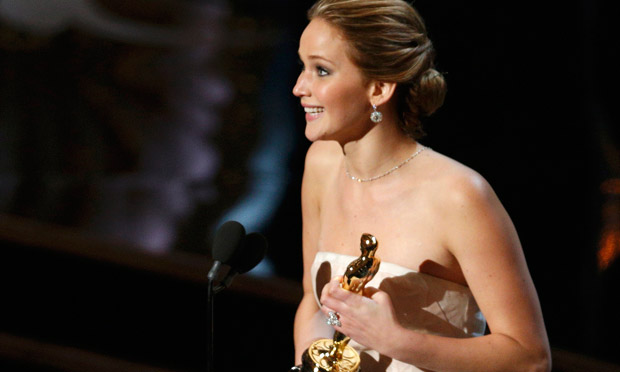 Google Images
What happened to J Law can really be applied in our daily life. When you think about it, challenges and problems that come our way are
a chance for us to rise above and become better
. Whenever we "fall" in life, it is up to us if we want to get back up and continue on or stay down and give up. What I learned from one of my Bible Study sessions is this:
Someone can never see the impossible happen if they choose to quit
. You see, when you quit, you
cheat yourself
and
second guess God
. We have to remember that God is
BIGGER
than
ANY
problem that comes our way.
ANY PROBLEM
. Cancer, poverty, corruption, cheating, haters, weight issues...
ANYTHING
. If we choose to give up and quit, then we rob ourselves of the chance to see God work His magic in our life. How sad is that?
Google Images
Watching J Law get back up and give her speech made me admire her even more. In one night she showed girls (and even guys) everywhere that she is someone to look up to. We're all human and we all make mistakes. We all fall at one point and we all get back up. It's really just a matter of choice.
So pretty... :)
So there you have it. An entry on my new girl crush- someone who not only has the looks but also has the kick ass personality to go with it. I hope in some way this entry has made you all admire her as well and see why I love her. :)